Hi, my names Pandora and I have an addiction … I'm a blatant shopaholic, I've realised I'm a collector of lip balm, lipsticks, clothes, shoes … Ermmm everything really. I'm currently trying to have a clean out and sort out the whole of my bedroom as It's turned into what I can only describe as a Primark jumble sale! You know the first day of sales and as soon as Primark opens It's doors about a hundred people run in and throw literally everything In their way on the floor so we all trip over and fly all over the place making us throw things in opposite directions, It's like a domino effect, anyway that's exactly what my room looks like at the moment so I've decided to have a clean out and actually sort through the crap ( believe me there's a lot! )
This is the one thing I actually find therapeutic I hate cleaning, hoovering, washing up, unloading the dishwasher all of that, but for some reason, I actually enjoy having a clear out even though I am a hoarder through and through ( weird right? I'm known for just chucking things away and yet I still collect certain products like I have an addiction problem, I'm a living breathing contradiction ) I seem to collect makeup even that I don't need ( who needs 5 different shades of the same pink? Or every colour going in blusher and bronzer? ) The same applies to leggings, I seem to have this problem where If I love the style of an item I will buy the exact same thing In all colours available ( why do I do this ?! ) Plus do you ever find you buy certain things that even though you know deep inside you'll never wear but you end up finding yourself at the till anyway? Yeah well, that means you're a shopaholic too!
I recently had the most ridiculous experience shopping for an outfit for my mates birthday the colour theme was yellow ?! Who has yellow In their wardrobe normally? not me! anyway this lady walked past me and smelt INCREDIBLE I asked what she was wearing and she said CREED in black I was like what is that? She said go to Selfridges ground floor it's on your left when you walk through main doors, so what did I do? I went to Selfridges … Now here's the problem when something doesn't have the price tag on it's like Russian roulette when it comes to paying! So when the lady bagged it up and said £190 I was like WHAT?!?! but obviously I didn't show that n my face I just went thanks babe and handed over my credit card with a small piece of me dying inside I have never spent that much on perfume before! Are you kidding me! I won't lie I was thinking I'll probably return it then thought don't be a skank I love it so just deal with it. The worst part is when your mate comes over and says ooooh what's this and sprays half the bottle on their neck! Vicki that is aimed at you!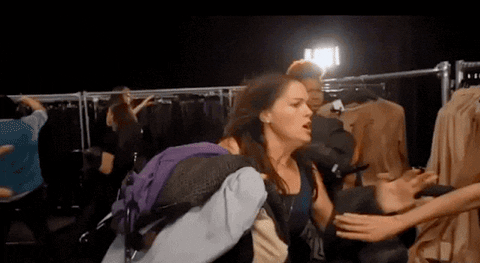 So how do you cure being a shopaholic? buying pointless things you couldn't possibly ever need. Well I'm about to hide all my cards until BLACK FRIDAY and CYBER MONDAY and everytime I feel the urge to go shopping I'm gonna bring out my abs and core workout app ( I'm gonna have those abs popping in no time )