So every year Instead of writing New Years resolutions I write a bucket list of all the things I wanna achieve in that 12 months, they can be anything from voicing an animation to climbing a mountain, learning a new language, learning how to drive … again ( Yes I had to do that last year, trust me It was the safest thing I could do for everyone as I hadn't driven for 10 years)  or something like presenting on stage in front of 80 thousand people ( always think big, you live once right? never go small )
This year I had DJ-ing at a festival on there and I literally just ticket that off my list.
It was the first year of the Mighty Hoopla in Victoria park and I feel so lucky to be a part of It.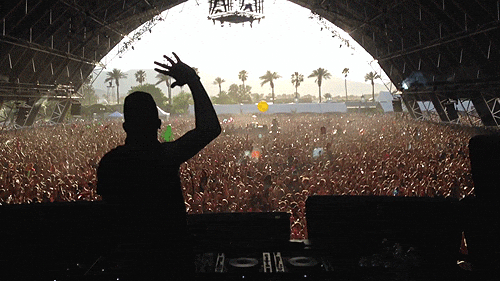 After trying to learn how to DJ off of USB I decided to keep it simple and use what I know so Serato It was!! I prepared a set list which of about 22 tracks so I could practice practice practice however even If you're that prepared you still brick it … Why is that ?? Why do nerves come to play havoc on your mind body and soul ?? The night before I couldn't sleep and on Sunday I was like I need more time to practice, what If something goes wrong? What If I can't hear through my headphones? What am I gonna do In front of all those people?! Ahhhhhhh ( this was literally going round and round In my head! )
But guys guess what … ?! I did It! I did It! and you know what I loved it, There were a few problems…. by this I mean a few clangers that were out of beat and I was frantically tapping the CD J to bump it along till I realised the BPM was slightly out argggg what a rookie, I blame this on first time festival nerves! You know what when most things go wrong the best thing to do is not get stressed over it because once you've made the mistake what's the one thing you need to do? MOVE ON …. GET OVER IT  because everyone else has ha ha they've blatantly forgotten about it so you might as well! After having the time of my life DJ – ing at HOOPLA I've decided I'm gonna do more. It's all about practicing, you wanna be great you gotta put the work in, I now have to practice what I preach I know I know …..