This is the first Sunday I've had off in ages and I didn't really see it starting with me sweating out the past week's entire intake at Ride Republic at 9.30am, I did welcome the spontaneity tho. Anyway, as usual, I woke up way before I should of, 7.23am in fact and there's only one other person I know who'll be up and about at this time and her name is Janine.
I wanna start by saying I don't like exercising in the morning, I never have, even tho every week I try and take Henry for an early morning run which always ends up in me having a coffee and throwing him a ball, not moving from my spot under the tree. So let's get back to it being 7.23 I'm wide awake just playing on my phone and who do I get a call from?? Oh there she is it's Janine, "wanna come to this class at Ride Republic at 9.30am ? Yeah course you do, go get yourself up and showered and pour yourself a coffee I'll meet ya at 8.45am" I obviously didn't undertsand what I was letting myself in for as I don't even like spin classes but I agreed way too easily and up I got.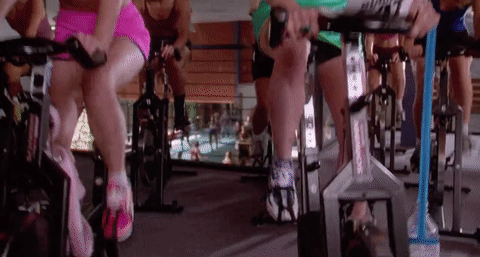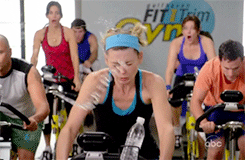 RideRepublicc Isn't far from me so we took a leisurley stroll down the road and It seemed weird because there wasn't another soul about, not even any cars going by, Why am I up at this time on a bank holiday sunday again?
Anyway we get inside the building I have another coffee because the walk alone has made me feel shattered and I need to wake up. We get brought into the room which is dark and very warm, I was told about the 'burn board' which highlights your name and ride performance throughout the whole session so no taking it easy and having a lazy ten minutes because you will be outed. You can literally see the number of calories you're burning throughout the class ( and feel it, as you are drenched from head to toe, think jumping into a swimming pool and immediately getting out to jump on a bike, that's how wet I was )
I've done spinning classes before, I've gone on bike rides around Ibiza, Marbella and the Cotswolds, however, I have never experienced anything like this. By far this was the hardest session I've ever done. It was weird to have my feet locked into the bike ( they have special trainers you have to wear ) It felt like I was getting strapped to a ride and there was no going back.
I've always said If I'm constantly looking at the time thinking when is it over I know it's good and believe me I was checking the time A LOT! Now there's a reason why they call it the burn, because just 15 minutes into the session my thighs were on FIRE! Not only were we trying to reach speeds above 100 RPH it then went even higher to 130 RPM .. I was shaking by the end! But just when you think you're about to collapse on the bike (for me about halfway through the class), you're given a cold towel with eucalyptus oil on to dab your dripping face, I can't actually remember who gave me this as I was probably In a trance but somehow It ended on my bike and then on my face. There was a girl called Claire at the top of the burn board who smashed It and burnt 578 calories in that 45 minute class 578!!! I was 298 and believe me I wanted to make it to 300 but I gave up. There was nothing left of me by the end … I actually only just woke up from falling asleep on the sofa, shattered, So if you're looking for an extreme workout check these guys out .. I'm going again for sure! There's an intro offer 3 rides for£30 Also there are promo codes to get your first class free CHECK IT OUT! If you think you're hard enough!